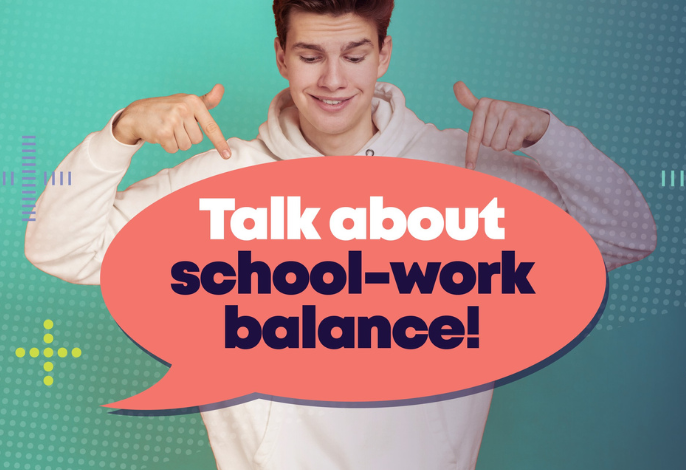 From February 13 to 17, take advantage of HSD to talk about school-work balance with young people.
Organize an awareness activity and download our awareness toolkit which includes an activity sheet, videos for youth and parents, and more!
Download our awareness toolkit!
In order to better support you in organizing your workshops, R3USSIR has a turnkey toolkit for you to help educate students about the importance of good school-work balance.
Download our toolkit in clickable PDF format, and share widely in your network!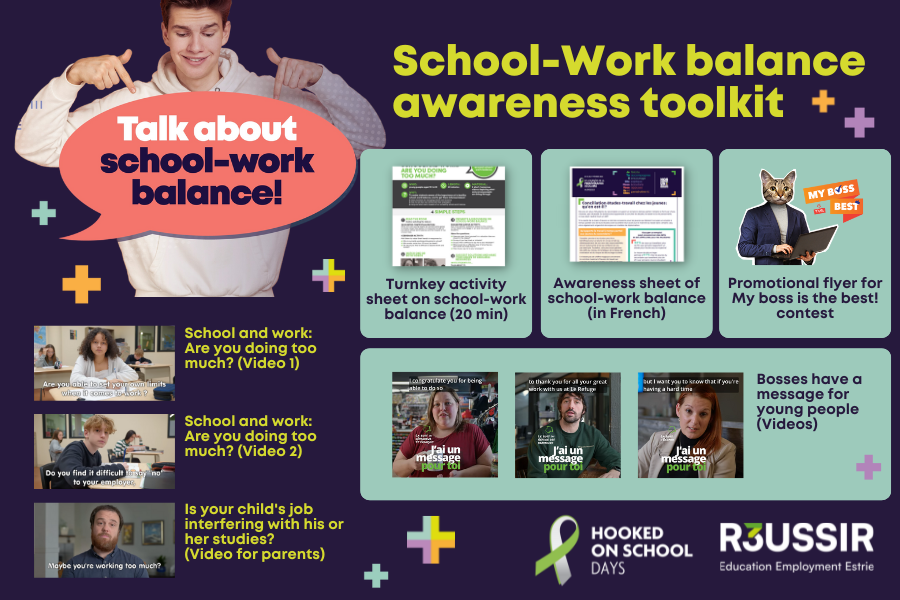 Contents of the toolkit:
School-work balance, a serious concern
Balancing school and work is a daily reality for the majority of students in Estrie. Given the ongoing labour shortages, exacerbated by the pandemic, student-employees and interns are providing their employers with important support during this difficult time, and are increasingly being asked to work during their studies. With the lure of better salaries, young people are being called on to work longer hours, and at younger ages.
While many are able to maintain a healthy balance between time spent on work and time spent on school, others risk compromising their academic success as well as their mental health.


Let's also educate employers!
As part of the HSD, R3USSIR is also carry out actions with employers to raise their awareness of the issue of work-study balance. Among these, video clips featuring employers committed to educational success proclaimed "best bosses" during the 2022 edition of the My boss is the best! contest have been carried out.
What is an employer committed to educational success?
What are the benefits of being accommodating?
What are their best tricks for gaining young people's trust?
We asked the question to five employers committed to educational success and winners of the My boss is the best contest! Here's what they had to say (in French)...
Cynthia Gagné-Millette, conseillère en ressources humaines chez Ecopak, à Valcourt
Bruno Lagassé,
copropriétaire du Marché Tradition, à Weedon
Marc-Olivier Brault, copropriétaire du Refuge des Brasseurs à Sherbrooke (vidéo 1)
Marc-Olivier Brault, copropriétaire du Refuge des Brasseurs à Sherbrooke (vidéo 2)
Geneviève Filion,
cheffe au Bistro Koz, à Magog
Lucie Bélanger,
propriétaire du Dépanneur St-François à Lambton